We didn't finish everything on our Summer Bucket List but Summer is winding down and it's time to start my Fall Bucket List. We had a fun filled and busy Summer and I want to continue that right into the fall! We got out and moved a lot!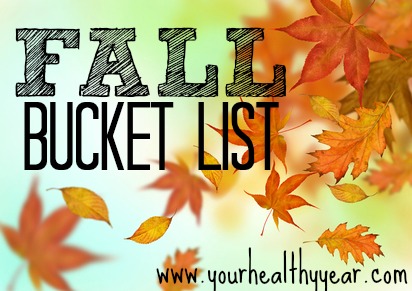 Try a Salted Caramel Mocha Frappucino. It's that time of year!
Go to a Pumpkin Patch.
Carve Pumpkins.
Go to a Corn Maze.
Go to Zombie Wars.
Walk the Irishtown Nature Park when the leaves have changed.
Run three 5ks.
Go to the Zoo.
Go apple picking.
Make caramel apples.
Go to Fundy.
Bake a pie.
Make fall themed cookies.
Make some Fall inspired art.
Make a Quilt.
Go to a hockey game.
Buy a new Fall outfit.
What's on your Fall Bucket List?