It's no secret that I LOVE smoothies. I have at least one a day. I love smoothies because they are quick, easy, and allow me to get a nice nutritional boost throughout the day. I have a smoothie for breakfast at least five times a week, and if I don't have one for breakfast, I work it into my day as a snack.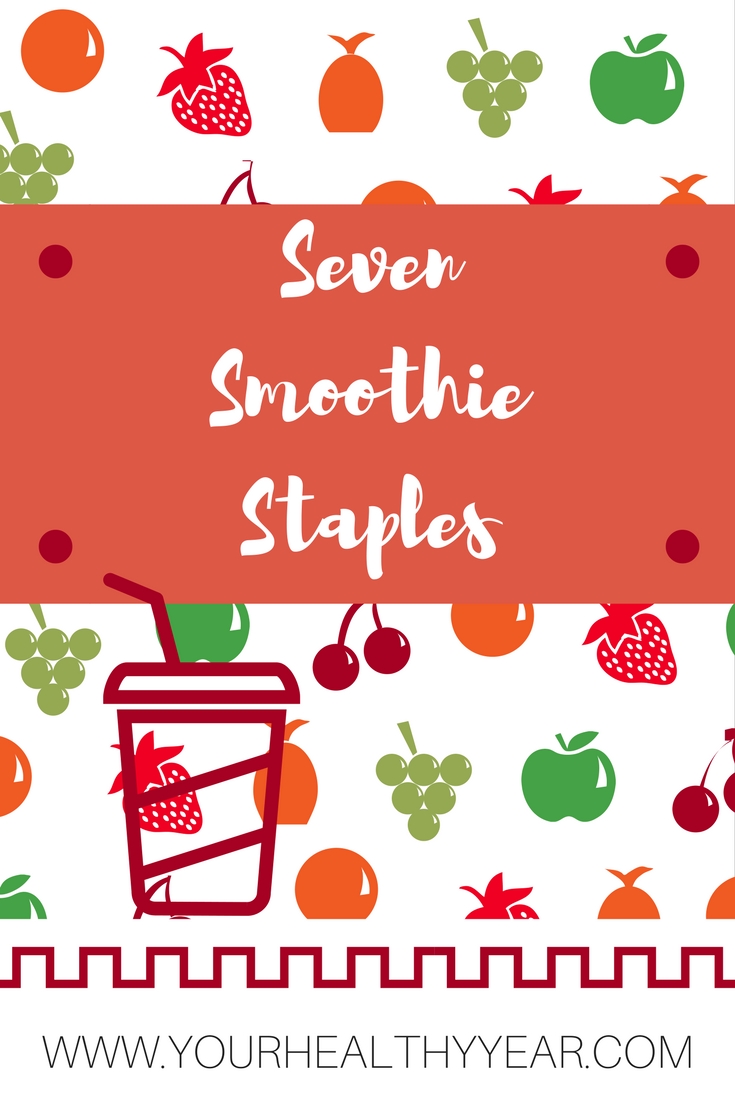 Seven Smoothie Staples
There are a few things that I love to add because of the nutritional benefits. These items are always in my pantry! When I'm meal planning and making my grocery list, I make sure that my smoothie ingredients are on the top of my list!
Flax Meal – Adding flax meal gives a boost of fiber and helps me round out my smoothies. It has almost no taste and I barely notice the texture. *Side note: Adding a bit of flax meal to yogurt is a great way to get extra fiber in your day too!
Protein Powder – If I am lacking in protein I add a scoop of protein powder. I don't really have a preference and I don't believe the hype that surrounds Beachbody/It Works/Herbalife/etc. I just buy whatever I find on Amazon or Walmart. My personal favorite is Chocolate and Peanut Butter!
Spinach or Kale – Both Spinach and Kale have tons of benefits. I add them in my smoothies on days I am lacking veggies (which is a lot, unfortunately.) I must admit that I am not crazy about the taste or texture, but I find it so easy to just gulp it down! Spinach and kale both have so many micronutrients and vitamins, it's worth giving it a try!
Greek Yogurt – This is another yummy way to get some extra protein in your smoothie if you don't like protein powders. Adding yogurt to your smoothie makes it sweeter and thicker, and extra yummy!
Frozen Fruit – I like to add frozen fruit instead of ice in my smoothies. I put them in the microwave to unthaw them just a bit, and then blend. There are so many choices when it comes to frozen fruit that the possibilities are endless. I think my favorite will always be strawberries though! If you prefer fresh fruit, you can add some ice cubes so your smoothie is cold.
Almond Milk – I am not really a fan of milk, so for me, almond milk is the way to go. I really like the Dark Chocolate Almond Milk and it's the base of pretty much all of my smoothies. My second choice is actually cashew milk, I find it sweeter then Almond Milk, and a bit of a nuttier taste.
A Good Blender – Personally, I just use a cheap hand blender because it is quick and easy. If you want to get really fancy, I highly suggest a Ninja Blender or NutriBullet!
BONUS: Peanut Butter – This just makes any smoothie 10 times yummier. Just be careful because 1 tablespoon has 90 calories, so if you aren't careful you can end up with way too many calories!
*This post contains affiliate links.*