This Arm Day Workout is easy and quick. These 6 simple moves require very little equipment and space. All you need is weights and 10-15 minutes and you are well on your way to toned arms!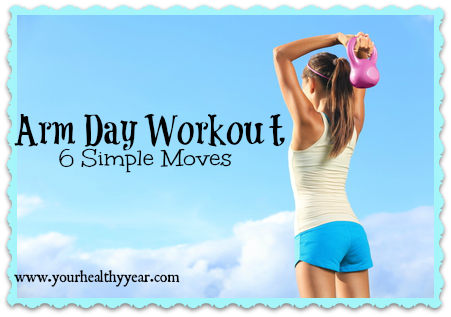 12 Pushups
30 Second Plank
12 Barbell Curls
12 Overhead Press
I do each exercise in this order, 2 sets of 12-15 reps each. I use a 10lb weight when strength training, but if you are new to lifting weight you might want to start out with something lighter.
Strength training is very important for healthy bones, and for losing weight. Studies have shown that weight lifting and strength training is more important then cardio when it comes to losing weight. Strength training is my least favorite part of my workout but it is so very beneficial. I created this little workout so I would still get some strength training in without taking up a lot of time, and without having to use much equipment.