So you went a little overboard this holiday season… You ate too much, and you didn't move enough. Well, you are not alone! A lot of us tend to overindulge over the holidays, there is always so much yummy food to eat! Now that the holidays are over it's time to get back on track!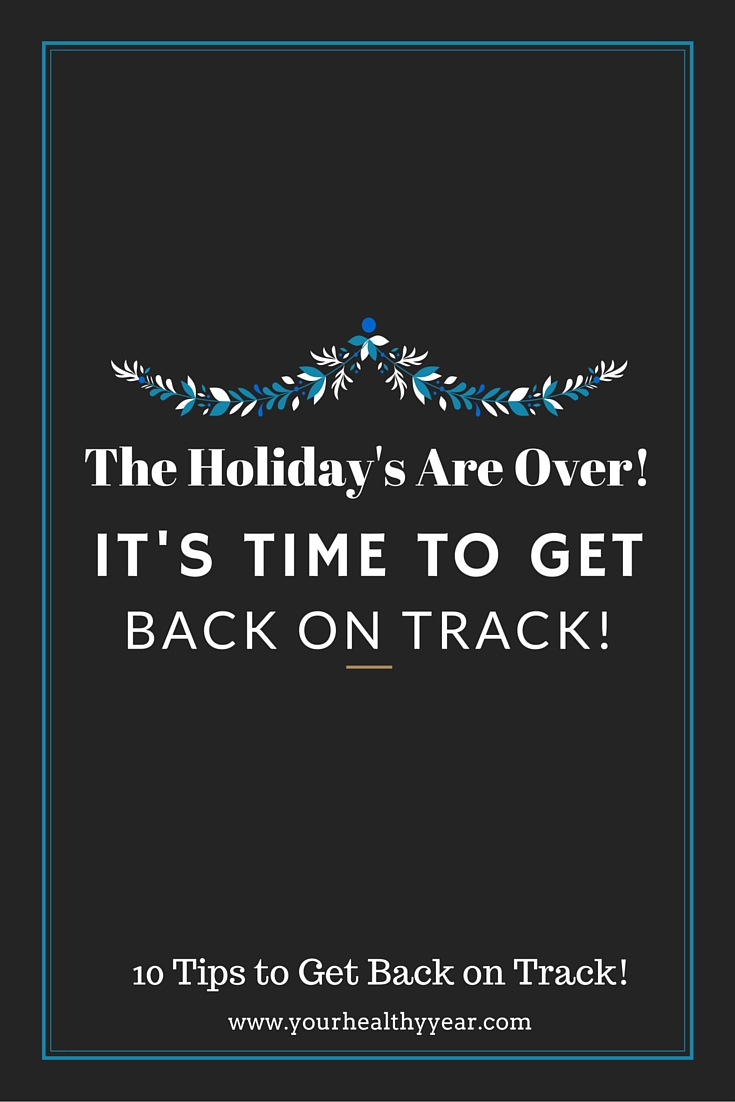 It seems like October to January 1st is just a barrage of holidays and foods. So. Much. Food. Halloween brings the candy and chocolate, Thanksgiving and Christmas bring mountains of good meals and desserts! And there are always leftovers!
Once January 1st rolls around and it's time to get our healthy eating back on track, it can get a little hard because we feel off the wagon and stopped our healthy eating habits.
10 Tips to Get Back on Track After the Holidays.
Drink a glass of water, go ahead, I'll wait. Water helps your digestive system get moving and helps you kick your metabolism up a notch. 1-2 glasses will boost your metabolism by 30%! Aim for 8 glasses a day, and only drink water. You don't need juices or carbonated drinks, you only need water!
Take a walk. It doesn't have to be a long one, just 10 minutes can get you back on track and help you make smarter choices with your food. Burning calories and getting exercise helps us get into a healthier frame of mind.
Find some motivation! You need to remember why you started your path to a healthier lifestyle in the first place, what is your end goal? Take a minute to think back and remember.
Go grocery shopping and fill your fridge with healthy foods if you find that you are missing some veggies and fruits. Sometimes we end up with so much stuff leftover, like chips and chocolate. Throw them out if you don't want to be tempted.
Track your food for the day. No matter what you have eaten. Get a reality check and write it down. Take a look back to a time when you were eating healthier and compare your logs.
Try a new workout. Here are seven you can try! They are quick, easy, and you don't even need equipment for some!
Register for a race. There's nothing like a deadline to give you the motivation to start moving! There are so many options out there, pick one!
Make a new workout playlist. Get some new tunes to listen to while you workout!
Buy a new workout outfit. A new outfit always puts me in the mood to run!
Set a smart goal. Make small obtainable goals. Break down the larger goals into steps so you don't get discouraged.
Whatever you do, you DON'T need to beat yourself up!
You slipped up, just move on!
Looking for more tips on losing weight? Check out these posts: