Last year was a great year for me. I started running consistently and ran my first ever 5k, plus I ran 8 races total. In 2015 I want to up my running and set some new fitness goals for myself.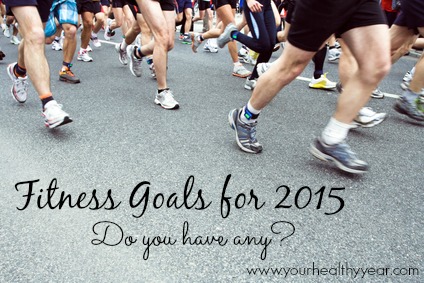 I want to run a 10k. I am super excited to run my first 10k. If all goes well I am planning on running it May 10th 2015. We have ran two 5milers so I figure adding on another 1.2 miles won't be so bad, right? (right???) I may even aim for a half-marathon for the end of 2015!
I want to run the Maritime Race Weekend. Two races, two days. You run at night, and then again in the morning. You can do 5k, 10k, half or full marathon in any combination you would like. I think we will just stick with two 5ks though.
I want to finish a Spartan/Mud Run. I tried really hard to convince my husband, sister, and my sister's boyfriend to do one in 2014 with no luck, but 2015 it is going to happen!! I am super excited and I need to start training, HARD!
I want to compete in a duathlon. Run, bike, run. I haven't found a race I can compete in yet, I'm looking for something for a beginner, but I think the biking would be an excellent addition to my runs!
Run a total of 400 miles in 2015. It works out to 7.7 miles per week and while training for the 10k and duathlon I figure I will rack up miles quickly once I get into it. I wanted a challenge but not something too crazy.
Run a total of 15 races in 2015. I am running my first one of the year on January 1st, the Resolution Run. What a great way to start the year!
Do you have any fitness goals for 2015? Or any goals for the year? I also have a bunch of things I want to accomplish on my DayZero list!