I've done articles with running tips for beginners and advanced runners before, but there is always something new and beneficial for us to learn. I love learning knew tips that will help me run easier and more effectively. I've said in past articles, you should start small, use the right running gear, stay motivated, etc. This article has 5 more running tips.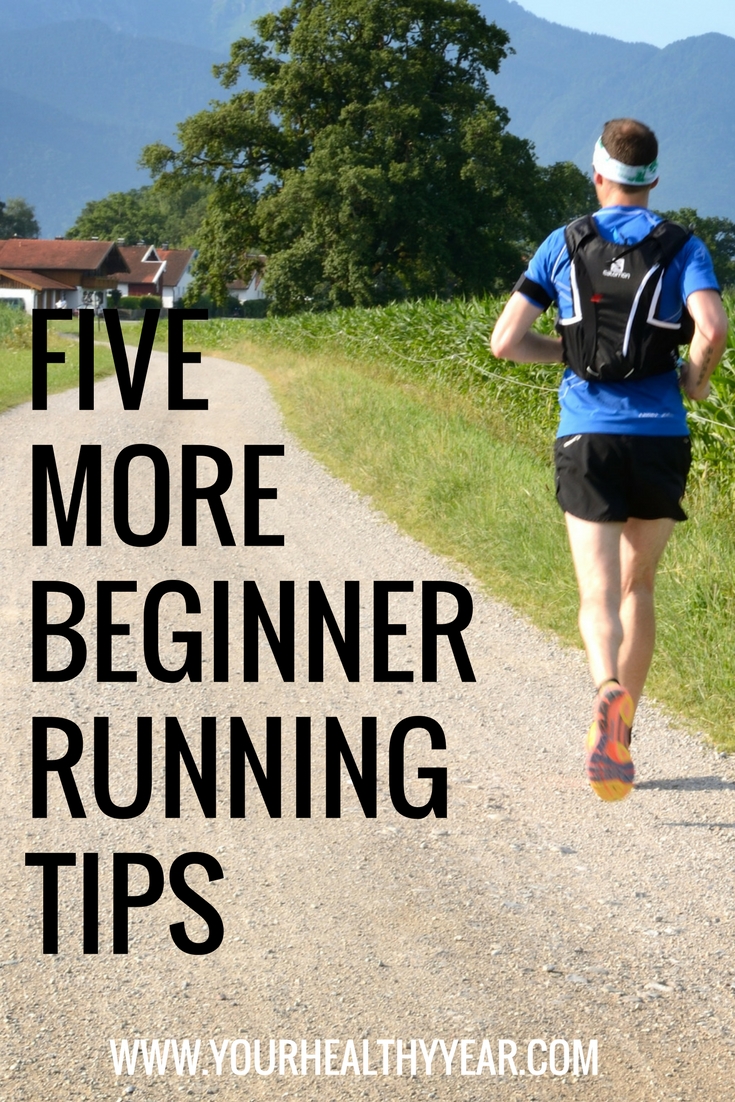 Five More Running Tips for Beginners
#1 Always stretch after a run.
There are a lot of people who believe that it's important to stretch before your run, but stretching after you run is even more important. What you need to be do before you run is warm up your muscles. This is as easy as walking for a few minutes before you actually start running. After your run, your stretches should not only focus on your leg muscles, but your neck and back too. Running engages your core, and stretching will help you maintain proper form.
#2 Take days off.
The only way to become a better runner is to run more, BUT, running every single day will actually do more harm than good and can cause overuse injuries. This means you will end up having to take weeks or even months off of training. If you want to workout everyday, you can lift weights, do yoga, bike, or some form of exercise that doesn't use your running muscles. Your joints and muscles will thank you!
#3 Don't try anything new on race days.
I know it's tempting to try out a new nutrition item or even wear a brand new outfit on race day, but this is almost always a big mistake. Race days are the days when you want to do exactly what you have been training to do. If you want to try something new, add it into your training schedule, don't 'save' it for race day.
#4 Always tell people where you're running and when you'll be back.
This is a big one for me because I am all about safety when running, especially when running alone. If you don't have anyone you can tell, make sure to write down the info and carry your cell phone and if available, mace or some other form of protection. When you are out for a run, there are so many things that can happen from running into wildlife to being hit by a car. It's not something we want to think about, but having your cell phone and ID on you could save your life.
#5 Learn running safety and follow the rules.
When you are running, or walking for that matter, you always want to run facing traffic. When you're running at night make sure to where a reflective vest and even a headlamp so you can see where you are going, and so others can see you too. If you are running with music, make sure you can still hear around you; keep the volume low, or only use one earbud. These are just a few of the many safety rules you can implement on a run.
---
These are just a handful of Running Tips for Beginners and as you continue running you're sure to find a few tips that work optimally for you. Every runner has their favorite running tips. Chat with other runners, learn from them and share. It's part of the joy of being a runner.
If you liked this, check these out: