It's no secret that strength training is a must when it comes to running. Studies have shown that if you are only running and avoiding strength training and cross training you are much more likely to get injured.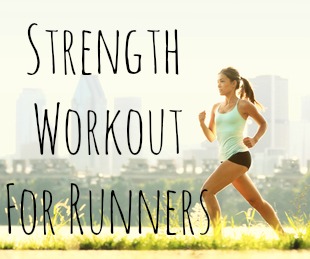 To be honest, I hate strength training. I would much rather do double the cardio. I know that I have to do it though. I like to come up with quick workouts that require little to no equipment. Like this Strength Workout For Runners that requires only a set of dumbbells!
Do these 10 moves 2-3 times, every 2-3 days for a full body workout that targets the areas runners need to focus on. Use whatever weight you feel most comfortable with but make sure you are challenging yourself a bit.
30 Second Plank
12 Squats with one Weight
10 (each leg) Lunges with Weights held over your head.
12 Dumbell Row
12 Bridges with weight resting on your hips.
12 Dumbell curls to over head press. (Do a dumbell curl then immediately move into an overhead press.)
12 Pushups
12 Calf raise while holding weights in your hand.
12 Tricep press
12 Heel rocks. (Rock forward onto the ball of your foot, then slowly rock back onto your heel. You may need a chair for balance.)
You can find more quick workouts here!
If you liked this post, you might also like: