*This post is sponsored by FoamFest. All opinions stated below are 100% my own.*
Ahhh another FoamFest has come and gone, and it's still our favorite race!
We went to our first FoamFest in 2014 so this was our fourth year completely the muddy, soapy course! Each year we count down the days and this year is no different! A few hours after we were done, there was already an announcement made for buying 2019 tickets! And you better believe we are counting down the days until the 2019 race!
Like I said, this was our FORTH year at FoamFest. If you want to check out any of the previous years' race recaps, you can find them here: 2015 | 2016 | 2017.
Moncton FoamFest 2018
This year… it was COLD! It was a chilly 5 degrees in Moncton when we arrived for our 9:00 wave time. It wasn't too bad once we started running and going through the obstacles, but a couple time there was too much shade and when you are soaking wet, it gets cold! It definitely doesn't scare me away from future races… I would have run it even if it were colder!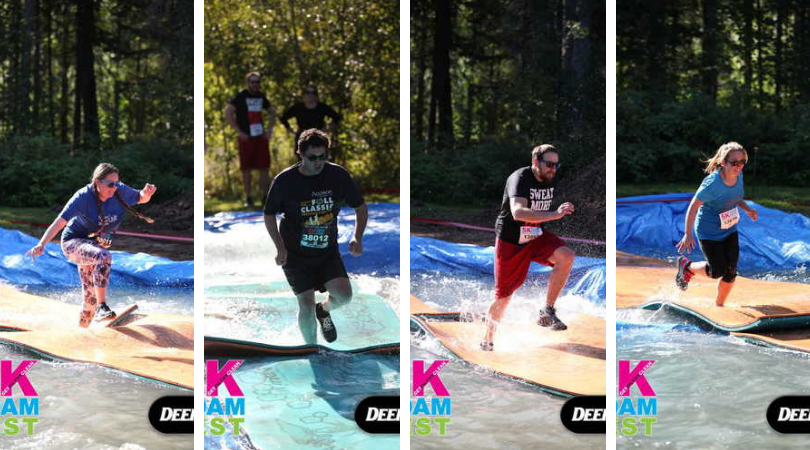 It's so hard to complete any of these obstacles without a huge smile on your face because they are so much fun. It's even more fun when you get through an obstacle without landing face first into the water, like on the lily pads above. I was CLOSE, but I made it to the end without falling in!
View this post on Instagram
I love that FoamFest is for everyone, regardless of their athletic abilities. You can walk or run the entire way and skip any obstacles you aren't comfortable completing. I am a huge fan of races that promote inclusion. These are the best kind of races because everyone is their to have fun and help out their fellow runners if they need a hand!
If you are planning on attending FoamFest, I encourage you to buy your tickets as early as possible so you can take advantage of early bird pricing! The earlier you buy, the cheaper the tickets AND you will have a better selection for wave times.