Simple Fat Blasting Strength Training Workout! There's no doubt that building muscle leads to more calorie burn, leading to faster weight loss and overall better health. Try this fat blasting strength workout 3 times a week and you will be well on your way to your goal weight, and a stronger, healthier body.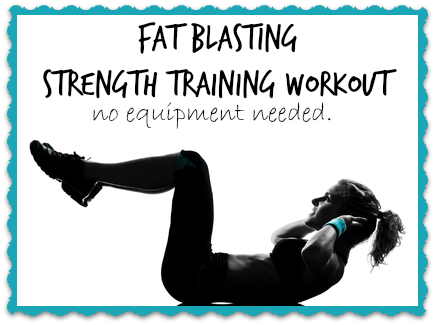 30 Jumping Jacks
12 Squat and press. Get the most out of your workouts by combining two strength moves into one. Squat down and as you stand back up, execute an overhead press.
12 Lunge and biceps curl. At the same time you lunge down do a biceps curl, simple right?
15 Plank Jacks. Get into plank position and jump your legs back and forth, like you are doing a jumping jack. Don't let your back dip! Firm abs!
15 Jump Squats. Do a squat and then JUMP up. Explosive movements burn calories!
12 Mountain Climbers. Get into a plank position and alternate your legs into your chest, as if you are climbing a mountain.
30 Jumping Jacks
Repeat 3 times, with a minute or two rest between each set! Don't forget to warmup and cooldown!
If you liked this post, you might also like: