Summer is getting closer and closer and I decided to set a few challenges for myself for the next 30 days, I hope you will join me! This 30 Day Fitness Challenge will help us achieve a healthier mind and body!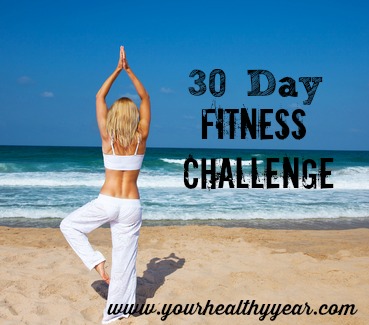 For the first week of the challenge I want to start with small and easily attainable goals. I'm not going to jump into an hour long fitness routine or cut out all carbs and sugars. Slow and steady wins the race.
20 Minutes of being active. This could be as simple as taking your kids to the park to play, going for a little walk, yoga, an exercise video, the choice is yours! I'm going to start Jillian Micheals' workout series 'Ripped in 30'. You can find more ideas here!
Eat one extra fruit or veggie everyday this week. It's just one, you can do that easily! Add a side salad to one of your meals or even just a glass of orange juice with breakfast. I will be adding in an extra fruit with my smoothie after I workout!
Drink your water! It boosts your metabolism and speeds up digestion, helping to prevent bloat, it also may help speed up weight loss! Shoot for at least 4 glasses to start and slowly work your way to 8. Keep a glass or bottle of water with you at all time!
As an added challenge, I am going to give up caffeine. I'm not a coffee drinker but I drink way too many Iced Cappuccino's from Tim Hortons! It's the only 'caffeine' drink I like but it's time to give it up!
That's it! Just three things to work on this week! We can do this! Let me know in the comments below, on my facebook page Your Healthy Year, or on twitter @yourhealthyyear if you will be following along and what you will be doing.
If you liked this post, you might also like: