Looking to get some quick workouts in?
Check out these 12 Quick ways to Burn 100 Calories!
15 minutes of house work burns roughly 115 calories.
15 minutes of shoveling snow burns roughly 115 calories.
A brisk 20 minute walk burns just over 100 calories.
8 Minutes of easy jumping jacks burns a little over 100 calories.
This Video will burn at least 100 calories and is only 10 minutes, no equipment needed!
Running up and down the stairs for about 8 minutes will burn just over 100 calories.
Taking a 20 minute bike ride will burn about 100 calories.
Playing Wii Fit for about 20 minutes burns 100 calories.
Playing basketball for 10 minutes burns a bit more then 100 calories.
A 4 Minute Tabata workout burns about 50 calories BUT burns calories for 30 minutes after you are done!
12 Minutes of Ice Skating burns 100 Calories.
Put on a fun playlist and dance around for 15 minutes and burn 100 calories!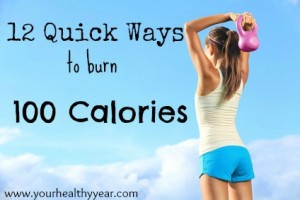 These are all under 20 minutes and the calories burned depend on how much effort you put in, the harder you work the more you will burn. There are dozens of other ways you can burn calories quickly, even when you have just a little time to get your fitness in – anything is better then nothing! No excuses now! You can get a quick workout in every day and burn 100 calories NOW. Pick 1 or 2 and then give yourself a pat on the back!
If you are short on time you should also consider HIIT (high intensity interval training) just 10 minutes can be the equivalent of a 30 minute cardio workout.
Need more workout ideas? Check out these posts:
*This post contains affiliate links.*