My sister and I were talking about workout ideas and she wanted an easy way to change up your workouts. I thought this was a fantastic idea to make working out a bit of a surprise, and a lot more fun. I decided I would go ahead and make a list of 30 workout ideas that we can pick from and add to our workout calendar. I put them all in a little jar and this will make an entire month of different workout ideas. (if you workout everyday)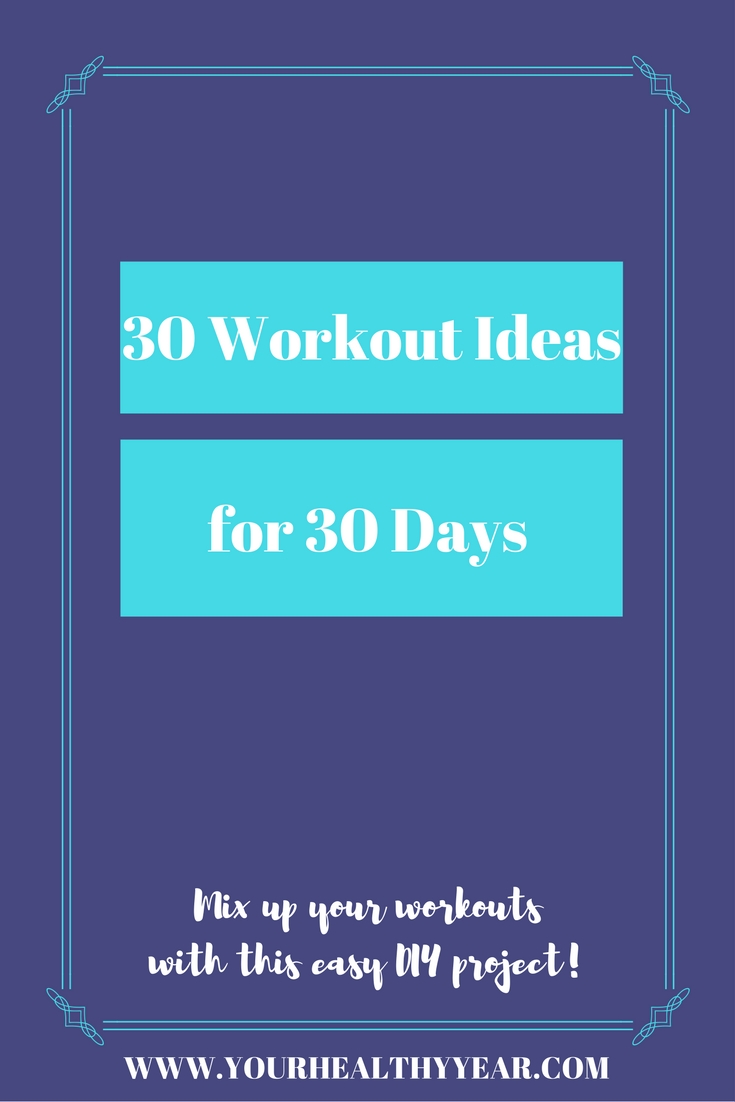 *This post contains affiliate links.*
30 Workouts Ideas in 30 Days
My idea is pretty simple – you write workout ideas on pieces of paper and pull them from a jar each day to randomize your workouts and keep you from getting bored. You don't have to do 30 ideas of course, you could do seven and you can randomize them each week. You could also create a jar with just your favorites, or if you are a planner like me, create the jar, pull out your ideas, and write them on a calendar. Check them off as you go until you get to the end of the month!
Workout Ideas Jar:
It's super easy to make your own workout ideas jar. All you need is:
Mason Jar – or any other jar or container you have lying around.
Stickers/Ribbon/Decorations to make your jar look pretty. 😉
Paper and a pen.
I am not the most crafty person around, I am sure some of you could make MUCH cuter jars then I could but I wanted to make it look better then a plain jar. I just used a few stickers and ribbons to jazz it up.
Coming up with the 30 workout ideas was a little trickier. First I listed the workouts from my "12 Quick ways to Burn 100 Calories" post. Then I listed some dvds and workouts I knew my sister would like and some things that I thought might surprise her, I also added some things that she would never do, and I'm going to challenge her to finish ALL 30 of the ideas! If you are still struggling to find some ideas, you can search pinterest for workout ideas, there are SO many there!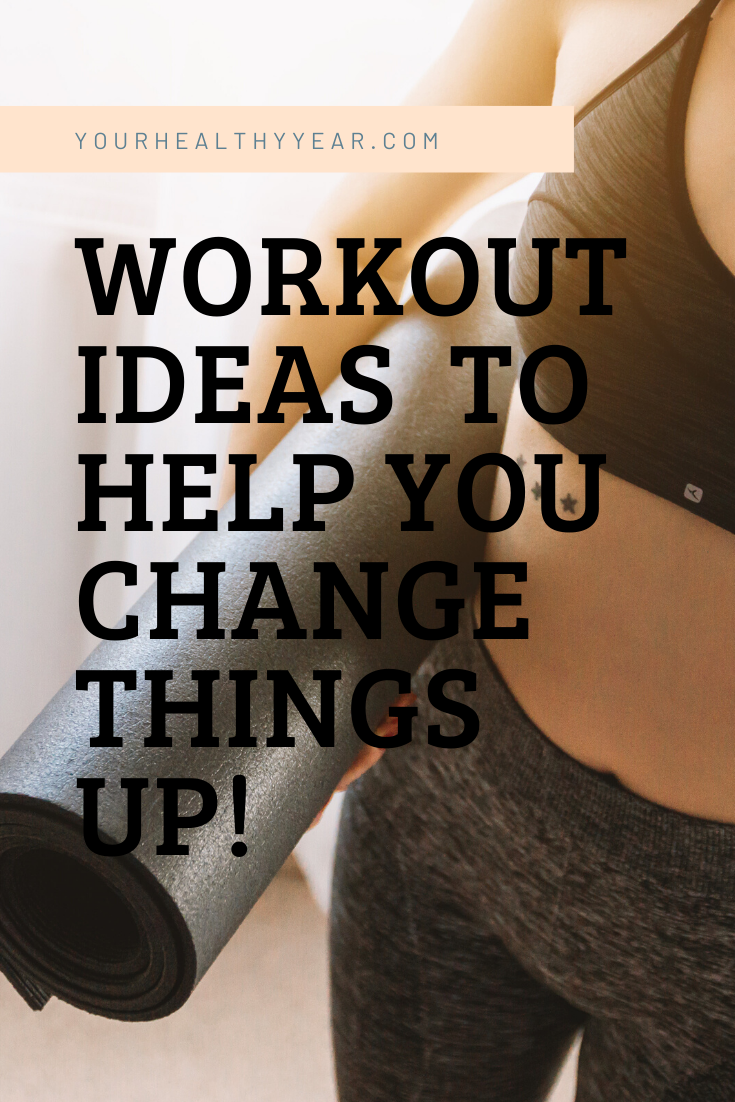 Why should You Change Up Your Workouts?
Keeping your body guessing is very important when you are trying to lose weight. When you do the same exercises every time you will reach a plateau because you're not pushing your body. Change things up and challenge yourself! Experts say you should change things up at least every 6 weeks. If you aren't interested in changing up your workouts, make sure you add more weights, distance, and just make it more difficult in general, so you keep seeing results! You won't get better if you don't push yourself.
When you Change up Your Workouts, you also allow your body to use different muscle groups. For example, biking uses different muscles than swimming does. Some workouts may be designed, or beneficial, to your entire body, while other could be used to target specific muscles. When you are varying your workouts, you are able to workout out different muscles throughout the week.
Finding Different Workout Ideas
If you have access to the internet, you have a huge amount of workouts available at your fingertips. There are tons of sites like Tone it Up, Blogilates, or Pop Sugar Fitness that each have a bunch of different workouts on them.
And of course, Youtube is also a great resource for workout videos, you can find anything and everything on Youtube… Belly dancing, yoga, pilates, Zumba, and so much more are available for free, right on Youtube!
One of my favorite workouts that I can easily find online are workout videos that feature a lot of kicks and punches, kickboxing videos are one of my go-tos when I'm looking for something quick and easy to follow. Here's one I enjoy doing almost on a weekly basis.
Another awesome bonus to finding workouts and workout videos online, you can easily find things that work for you and your space, and also find workouts depending on what kind of equipment you have available.
Going Beyond Workout Videos
If workout videos aren't your thing and you need more ideas to fill out your workout plan and help you Change Up Your Workouts, here are a few other things I love to do, and have added to my own workout rotation and are frequently in my workout calendar:
Keep it Simple, Keep it Inexpensive
The most important thing to think about when you are working on any kind of workout calendar, or when you are just trying to find workout ideas, is that the easier it is for you to just jump in and start working out, the more likely you are to actually do the workouts.
Also, please keep in mind that to start a regular workout routine or program does not need to cost a bunch of money. If you enjoy going to the gym and you have the money to spend on it, and that's what you WANT to do, that's awesome! But for a lot of us, (myself included!) the gym is just not the answer, and that is okay! You just need to find what works for you, so you can get started on a healthier path and way of life.
Having a full workout calendar that I can easily glance at and see what's coming up has really kept my motivated since I am a visual person. I love being able to cross it off my calendar, it makes me feel even more productive!
Do you have any fun suggestions? Leave them in the comments!
Need even more workout ideas? Check out these posts:
*This post contains affiliate links.*